What is the Post-Season?
The post-season occurs during the month of September, beginning September 6th and continuing four weeks until September 29th. With increasing chances of rain, September is still a great time to host racing but racers should be prepared for potential weather cancellations.
Since the season winners have already been crowned, post-season racing does not earn racers any points towards their season standings.
The post-season is configured slightly differently than the regular season, with racing only occurring Wednesdays and Fridays. Race programs are a bit different too – each Friday night features a unique flavor, such as "$$Dollar Night$$" and "Night Out", to name a few.
Check the race book and see for yourself!
---
Why race in the Post-Season?
This is an excellent opportunity to participate in unique race nights, continue your training, earn upgrade points and cash prizes (on Friday only), and enjoy the track community for a few more nights before we shut down for the winter. Why hang up the track bike when you could still get some more exciting racing in this year?
Wednesday was added in preparation for Masters Worlds in October this year. This is your chance to stay in race shape and prepare for October racing.
Perhaps most excitingly, Cat 4 Men and Women are invited to participate Friday night! The food trucks and beverage garden will still be operating, making this a great destination for racers, family, and friends too.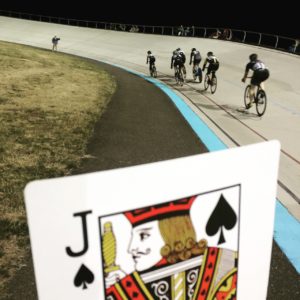 Race Nights Explained
Wednesday Nights – Masters A/B/C, Sprints, Open Time Trials
Masters will race their own fields if they meet minimums. Time trials are declared at registration and will be run at the end of the race night. Sprints is still open to all categories as well.
Friday Nights – Cat 1/2 Men, Cat 3 Men, Cat 4 Men, Cat 1-4 Women
All riders are eligible for upgrade points. Cash prizes awarded for top finishes.