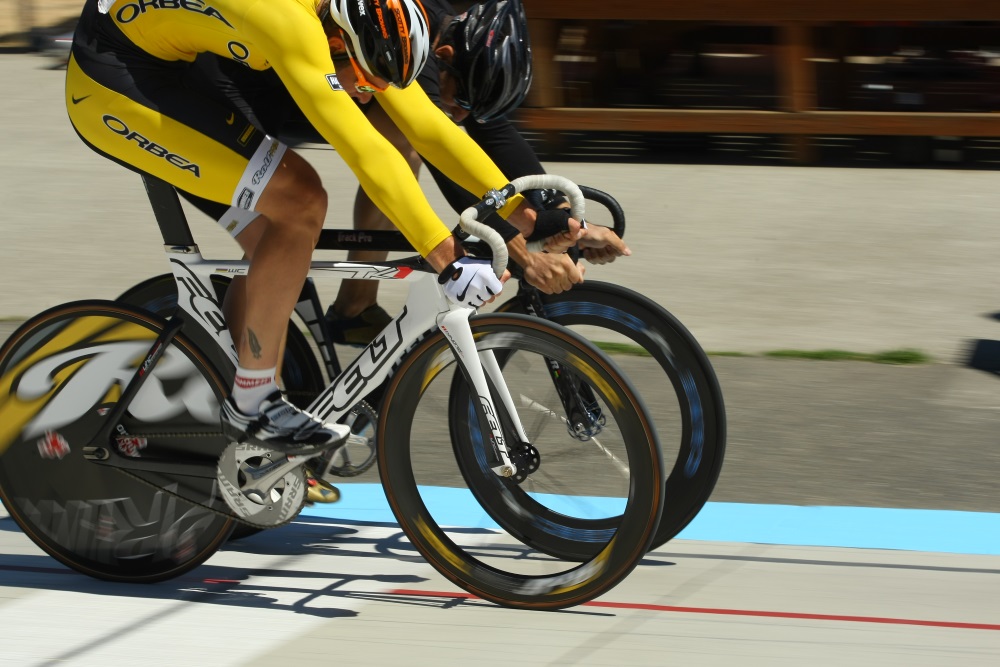 What is Track Cycling?
At it's core, track cycling is a competitive sport, built upon the basic principles of power, endurance, speed, skill, and tactics. Racers maneuver single-speed fixed-gear bicycles around an oval track (called a velodrome), with banked corners and only left turns. In one evening of track cycling, racers will compete in a lot of different racing formats! These range from individual time-trial events to "mass start" group events, races for the finish line or even races for points. Even on a local level, riders organize to create sponsored teams, which provide a whole lot of benefits and community for our athletes. Riders wear "kits" while competing to show their team membership. Track Cycling is an international athletic event, with races National and International class races held annually (including events in the Summer Olympics). More information can be found on
USA Cycling's website.
Track Cycling at Marymoor
Since 1975, Marymoor Park has provided one of a few venues for track cycling in the Pacific Northwest. The Jerry Baker Memorial Velodrome (JBMV) is a concrete, outdoor velodrome, operated by the Marymoor Velodrome Association. At the steepest, the corners have a 23 degree slope, which among competitive velodromes worldwide is considered a rather gentle slope. At 400 meters in length per lap, the "gentle giant" is also one of the longest/largest tracks in the country. Track cycling can be seen at the track on a weekly basis throughout the spring/summer months, starting in May and lasting well into September, on Mondays, Wednesdays, Thursdays, and Fridays. The track annually hosts weekend events that range from USA Cycling Nationals to locally competitive races.
Learn more about the history of the JBM Velodrome
.
Racing happens throughout the week, but Friday Night Racing (FNR) is the main destination on our weekly race calendar. The "Big Show" combines our fastest racers, great local beer and wine, food trucks, and a whole bunch of spectators to create one of the Pacific Northwest's' absolute best ways to spend a Friday evening.
Eat Up!
Friday Night means we bring out the good stuff. We have a rotating spot for local food trucks to stop by the track and make sure you aren't cheering on an empty stomach. And if you need a little extra for your evening, Postdoc Brewery and Locust Cider are always cold and ready to serve in our beverage garden.


Watch the Best!
The last day of the week is when all the fast riders come out to play. Our most experienced riders, Cat 1/2 Men, Cat 3 Men, and Cat1/2/3/4 Women, and Juniors don their gear and put on the "Fastest Show on Two Wheels". Come frequently and you'll find your favorites. Riders not only compete for each individual race, but are also competing for the season long omnium points.
Join Us!
We think you'll really enjoy your time at the track - bring your family, friends, co-workers, dogs, everybody! You might find you enjoy racing so much that you're going to want to sign-up for a class and try it yourself! Friday Night admission is $5 per adult at the front gate. Interested in just checking it out? Stop by Monday/Wednesday for free and see what racing is all about.
Racing typically goes from 7:00 PM to 9:30 PM, and admission is only $5 for the whole evening!
Race Formats
Here's something to get excited about - Track Cycling includes a whole bunch of different types of races! On an average evening, you'll see each category compete in three race formats each.
We could take a whole bunch of time to introduce each of these formats, but instead we thought it would be fun to share these excellent videos made by Union Cycliste Internationale (UCI), the governing body responsible for international cycling competition. There are more than what's listed here (we even have our very own race, the Marymoor Crawl!), but this is certainly enough to get any fan started.
Kilometer and 500m Time Trial