Lap-a-Thon
The annual Lap-a-thon for 2023 date is May 13th. This is a great and fun way to support our junior team as they gear up to send 20+ athletes to nationals competition.
You can find out more on the Lap-a-Thon page, make a pledge, and stay tuned for the kids to ride for your support!
Donate to the Team
The Jerry Baker Junior Team is supported by team registration, grants and funding from the Marymoor Velodrome, as well additional efforts by the community. You can help support the team today by making a contribution to the Marymoor Velodrome Association and earmarking your donation for the team. Any funds designated for the team will go 100% towards offsetting the costs of equipping, training, and supporting our young athletes. Just make sure to select the Junior Team from the dropdown titled "Purpose of Donation" (see below).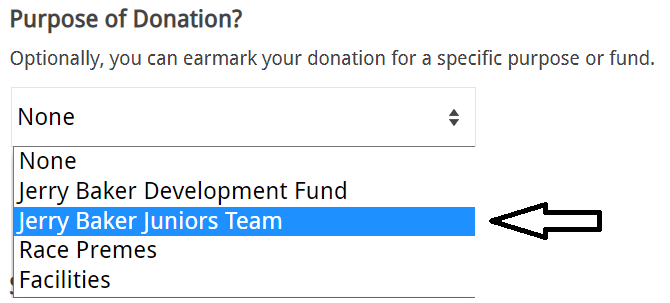 You can make a charitable contribution to the Marymoor Velodrome Association, a 501(c)(3) Non-Profit, and know that your support is going to go to a great cause. Thank you so much for your generosity – the future of the sport thanks you for your support!
Sponsor the Team
Invest in our youth, Grow your brand
Meet our Current Sponsors
Are you ready to join us?