Getting started at the track looks a little bit different for everyone depending on age and experience.
Click/Tap on the image below to learn more!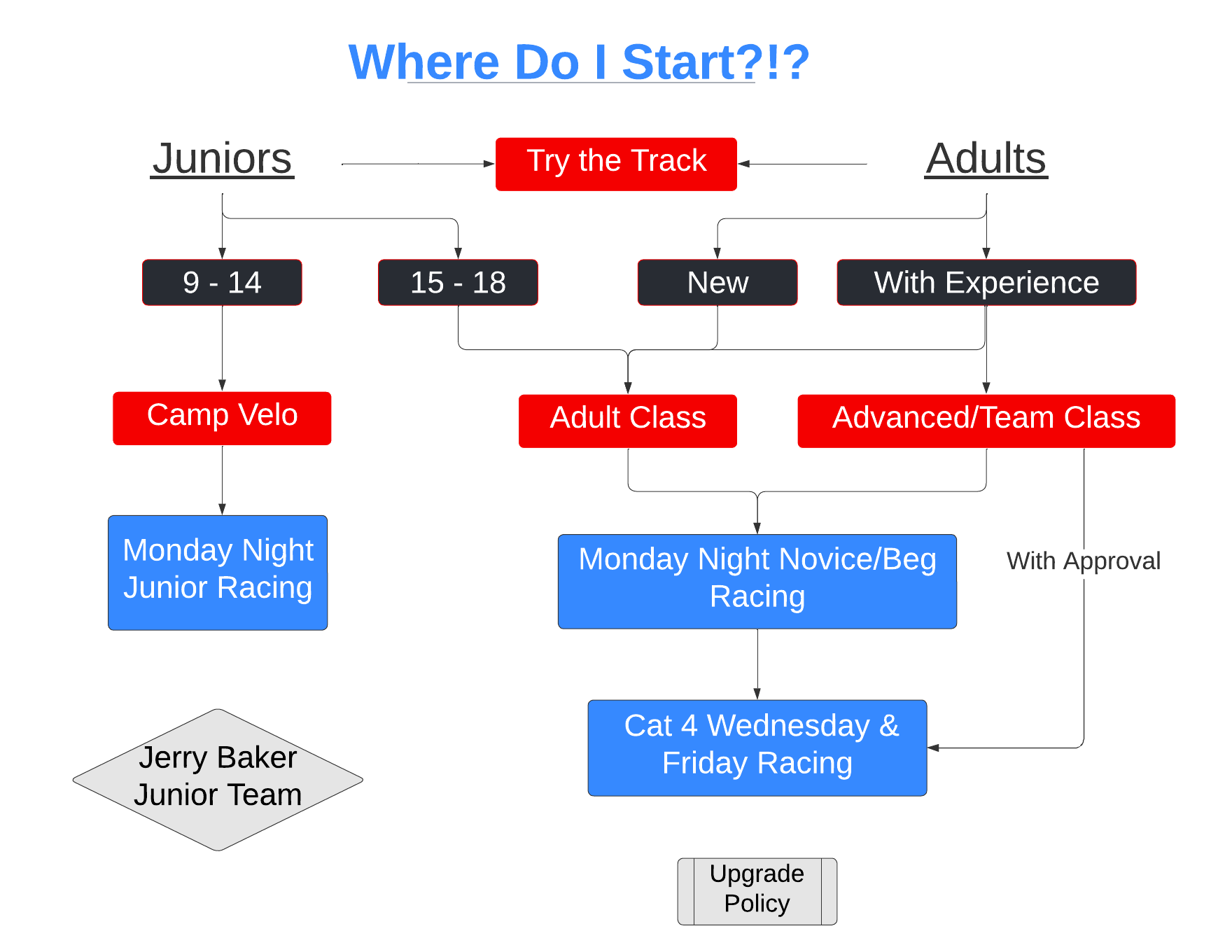 All Classes and Registration Links
Youth
Adult
Track Racing Q&A
Where is the velodrome? How do most people get there?
Address

: 6046 West Lake Sammamish Pkwy NE, Redmond, WA 98052

In Marymoor Park (Redmond, WA)

Lots of people drive, parking is $1

In 2025, Light Rail will have a stop at the park. Some bus routes go to park as well.

Many carpool resources for the velodrome 

Options to store track bike at the track and ride your road bike there
What kind of bike do you need to race at the track? I heard about a rental program, can you tell me more?
Rental bikes provided for FREE in the classes and camps

Track classes will go over all the requirements

Fixed Gear – no free coasting

Drop bars no flat bars (no brakes on bars even if they are disconnected)

Horizontal Drop outs

No quick releases on wheels

$10 Rental Bikes available for races – FREE bike rentals for new WTFNB and junior racers.
I'm not sure if I want to race. What are my opportunities to try it out?
Try the track – 1 hour, $10, open track time and bike rental. 

Info – https://velodrome.org/try-the-track/

Adult track class / "track certification" – $40, 4 hours, bike rental included
I want to race! What are the next steps? 
See the

JBMV New Rider Pathway

Flowchart above

(Novices don't need a license right away, but it doesn't hurt to get a USAC license)
What's the cost / price to race?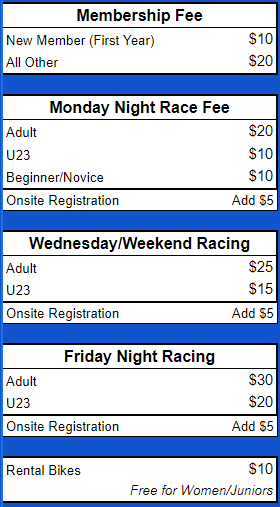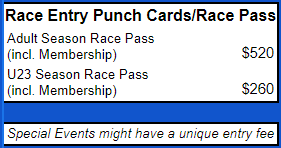 ​​​​Membership fee is just $10 dollars for 1st year as a new racer!
Can I ride on the track if I'm not sure about racing?
Straight answer: YES, any time there isn't something scheduled.

Calendar:

https://velodrome.org/calendar/

During the summer, many evenings have scheduled racing or classes. Check the calendar beforehand! 

Track bikes have priority on the track so if you bring a road bike just check with people riding on the track before jumping on!

Scheduled open track times(popular times for people to train – these are FREE, unmonitored times)

Saturday and Sunday mornings

Tuesday evenings
What do people wear for track races?
Foot retention is required – toe clips (cages), straps, cleats, etc. 

Helmet required

Most people race in kits – you don't need a speed suit!

Sunglasses and/or clear lenses optional but recommended

Lighting may change as the race night goes on! 

Gloves optional but helpful for grip and in case of a fall

Don't forget to bring a multitool!
What's the track community like?
Deeply connected community due to race night format (three races with rest in-between)

3 to 4 race groups

sitting between races is a great time to debrief races

Lots of support from all skill levels 

Lots of juniors – intergenerational dynamic

No team tactics in racing (no blocking, lead outs, etc) – this is explained in the class and beginner/novice racing.
What is the format of a track race? How is the winner determined?
Track Racing is made even exciting thanks to the wide variety of fun racing formats

Scatch race

– first person to cross the line wins

Points race

–  certain laps you race to get points

Elimination race – the last person to cross the lap is out

Lots of chances to know race formats

People with the most points at the end of an evening win their category for the night (Omnium!)

Not just one race determines a winner
Favorite resources
Race Book – a guide to all race formats and policies at Jerry Baker