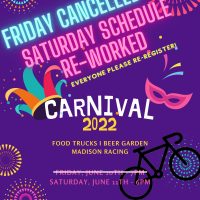 2022 Marymoor Carnival SATURDAY June 11th Registration
Friday is cancelled, but you can still sign-up for Saturday.
Once again luck does not seem to be on our side this season and combined with low pre-reg numbers, races and upcoming races elsewhere, and more forecasted storms, we have decided to cancel the Friday of the Carnival.  We have created a new, less madison focused, event for Saturday! See the schedule below. In order for this to go ahead, we are going to need 40 people pre-reg'd by Friday at 7pm other wise we will cancel and see y'all next week!
Thank you for registering for the 2022 Marymoor Carnival Saturday only. With Friday cancelled, we're putting together a slightly modified and hopefully inviting race program. We hope you can join us!
The categories for this race are:
Juniors
Cat 4 Men
Cat 1/2/3 Men
Women
Schedule includes:
Scratch
Crawl + Kiddie Kilo
Juniors Points Race, Elimination for the rest
Juniors Stayers Race, Points race for the rest
Select options