Dust off those cobwebs…
Get your gearing all worked out…
Pre-Season is nearly upon us!
At the JB Velo, we ramp up to the racing season every year with a warm-up round known as Pre-Season. This time of year is intended to get everyone back out to the track on Friday nights, working out the kinks, and preparing for the regular season.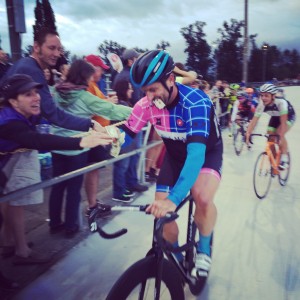 Pre-Season racing happens weekly on Friday Nights starting at 7:00 PM. All categories are welcome! That means Cat 1/2 Men, Cat 3 Men, All Women, and Cat 4 men each race three races for a total of 12 races a night. The first two nights even have the Marymoor Crawl! Some riders won't get a chance to ride this until they upgrade. Riders can earn upgrade points, but season points wont start until (drumroll…) the regular season (ta-da!). Please check the weather and be prepared for the possibility of rain cancellations – it is still the month of May and we do live in the Pacific Northwest.
Reminder: Cat 4 riders are gear restricted per track rules to an 86 (48×15) or equivalent of 22′ 3″ rollout. More about gearing setups can be found here.
Registration costs $25 per member, $35 for non-members. Juniors are only $10! Get your membership taken care of that day ($75) and it's good for the whole season. Check the fee-schedule for detailed information regarding costs this year.
The pre-season schedule in all it's glory can be found here.

There is only one down-side to pre-season racing… no beer garden, no food trucks, no prize money. If you got it all right away, what would there be to look forward to? Friday Night Racing is known for a fun, boisterous atmosphere – just make sure you come back out for the Kick-Off Event on May 27th and 28th. We'll have enough beer, food, and prizes for the whole lot of ya!
Dedication Event/Regular Season Starts
Getting excited yet? Good! Starting the week after our kick-off, the regular season starts Friday, June 3rd. To commemorate the change of name of the velodrome, we'll be also hosting a special naming/dedication event this evening. Join us for an extra special night of exciting racing! More info about this event is coming soon.
Spectator Info
Pre-season racing is free for spectators! Get your friends and family introduced to the great tradition of Friday Night Racing in the pre-season and keep them coming all year long. Know someone who is just really curious about racing? This is the perfect time to introduce people to the sport. You get to see a lot of racing with all our categories, all without any cost for entry!
Post-Season – NEW this year!
We haven't even started our pre-season and we're getting sidetracked already… New this year, the JB Velo will be hosting a post-season to close out our year. During the month of September, you can look forward to another season of all-category racing, this time with prizes and very unique race programs! We'll even keep the beer garden and the food trucks open for you.