The Jerry Baker Juniors are honored to be named USACycling's 2020 Junior Team of the Year. In a year that (still) feels like a track stand we were able to come together and make the best of things! Read below for part of our application: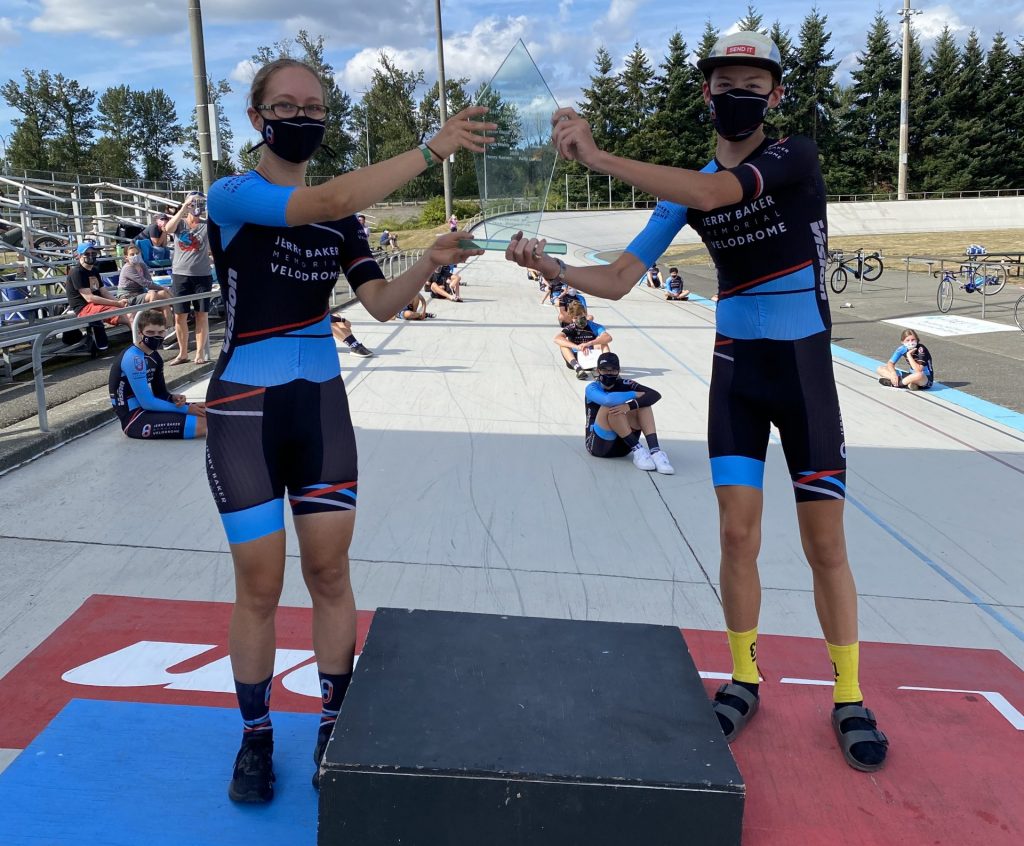 https://usacycling.org/article/usa-cycling-announces-2020-club-of-the-year
COVID threw everyone for a loop this year. In a typical year, we have group indoor training sessions at a training facility between January and March and then transition to training on the track in late March. Unfortunately, that timing ended up being exactly when things started shutting down due to Covid. Washington State was one of the first areas hit and everything went into full lockdown, including shutting down all state and local parks, which meant our velodrome was completely off limits. Within weeks we made our quarantine plan. The first step was to make sure all our team members had access to trainers and rollers so we asked for donations from our track community and were able to accumulate enough for the whole team.
From April-June we rode together 3x a week on Zoom. To keep the juniors motivated, we came up with a few different ideas. The first thing we rolled out was a junior vs adult total hours competition with members of our JBMV racing community. The results ended up being insanely close, especially considering a majority of our juniors were limited to only riding indoors, compared to some of the adults who were still doing long outdoor rides. We also offered a bonus in the competition if the juniors organized their own Zoom rides and it was really cool to see some of the kids taking charge and leading their own group workouts. Next, we did a month of junior hourly challenges where they could earn certain prizes based on how much they trained. The final month we had weekly special guests which included multiple Olympians, national champions and local superstars (Jo Kiesanowski, Jennie Reed, Adrian Hegyvary, Justin Williams, etc.). These special guests were amazed at the commitment level of the juniors and provided amazing stories, insight and training advice for the team. 
For the last 2 months of the summer, while following strict state laws, we were allowed to have in-person on-track team workouts. Every junior had their own bench and all of the workouts had to be individual because drafting was not allowed. Without mass start racing we focused on time trials including hour records and we saw improvement from ALL juniors. At the end of the year we held a socially distanced team awards party (I will send pictures), and it was amazing to have a little bit of normalcy in a very weird time. 
Starting in September we realized that with school still being online and social interaction at an all time low we created a discord channel for the juniors. The juniors self organized into playing video games together (Among Us and Minecraft), cooking challenges (cake and cupcakes) and then group crafts via Zoom/Discord. The coaches also started a weekly Zoom training ride to keep the juniors motivated to ride during the off season and give them more opportunities to interact with their teammates.
Throughout all of these challenges we were amazed at the juniors commitment, determination and overall positive attitude. 
One of the best parts about the team is how supportive our team members are of each other. We have a huge range of levels throughout the team- from the serious riders with big racing ambitions to kids who just like to have fun at the track with their friends. As coaches, we are most proud when we see how well all the kids interact with each other and support each other no matter how fast they are. 
As female coaches who grew up in junior cycling, it is especially cool to see the large group of girls we have in the program who not only push each other to be better riders but also have developed into good friends who support each other. We are so thankful and honored for the team's selection as USA Cycling's Junior Team of the Year.
Late in the year, we asked all the kids to film a quick video stating what the track meant to them. There were some typical answers, "speed," "racing," but what stood out were the number of kids who mentioned "community," "friends," and one who said "the track is my whole life." In a normal year, we have team members who spend their whole summer at the track, training, racing, volunteering and just hanging out. We think this really shows how important our team and track community is and we hope to continue growing the program and providing a safe and welcoming place for these kids to grow up.